Meet Dr. Rob Lyons!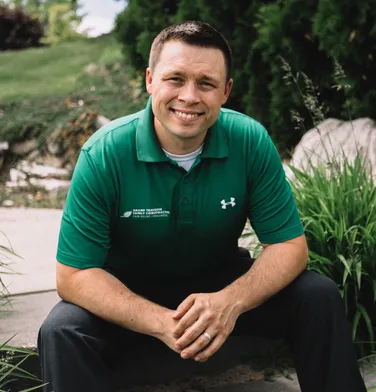 Dr. Lyons graduated from the prestigious Palmer College of Chiropractic in Davenport, Iowa in 2009. While at Palmer, Dr. Rob Lyons was a Vogt leadership nominee, John Connolly outstanding graduate nominee and graduated as the Valedictorian of his class. Dr. Rob loves being a chiropractor and knows that a healthy spine is not only free of pain or restrictions, but most importantly leads to a better quality of life!
"Whether you are looking for pain relief, to improve athletic performance, keep up with the kids, or keep the whole family healthy, I'm here to help you reach your health goals as quickly and affordably as possible!"
In addition to a passion for general chiropractic care, Dr. Rob Lyons enjoys and has received additional training in several specialized areas; including expectant mother and pediatric care, sports injuries and extremity (shoulders, ankles, etc.) care, therapeutic and rehabilitative exercise and soft tissue techniques for ligament and tendon injuries. Dr. Rob Lyons is one of only a handful of providers in Northern Michigan certified by the International Chiropractic Pediatric Association (ICPA) in the Webster technique. A chiropractic technique focused on the specific needs of expectant mothers.
Dr. Lyons was born and raised in the Traverse City area and wouldn't want to live any where else. He is married to his high school sweet heart Jodi and together they have two children, Mason and Brenna. When not serving patients, Dr. Lyons enjoys spending time with his family. They enjoy pursuing all of the outdoor activities that living in Northern Michigan has to offer, from fishing and swimming to camping and hunting.
Whether you prefer a very light and gentle adjustment with out any twisting or popping, the standard hands on manual approach, or techniques that utilize drop tables or the activator tool, Dr. Lyons is well suited to individualize your care specifically to you to produce the most comfortable and effective treatment possible.
Meet Dr. Alex Cesal!
Dr. Cesal attended Logan University in Chesterfield, Missouri where he earned his Doctor of Chiropractic degree in 2021. While at Logan, in addition to his core Chiropractic curriculum, he was part of the Rehab to Performance and Motion Palpation Clubs in an effort to best prepare himself to help his patients get healthy and stay healthy. Prior to entering Chiropractic School, he attended Central Michigan University and received a bachelor's degree in exercise science & kinesiology. While at CMU, Dr. Cesal was able to continue his lifelong passion for athletics and played club baseball for four years. (Fire up Chips!)

Dr. Cesal is very family-oriented, which led him to his passion for Chiropractic and practicing in a family setting. His older brother was told after playing soccer that he would have pain in his ankle for years, which led his family to go to a chiropractor for a second opinion and to treat his ankle. After a few treatments, his older brother was back playing sports with no issues. Witnessing Chiropractic have such an impact on his family, he knew this was exactly the profession he wanted to be in. His passion is to give back to families, as the past chiropractor did for his family. This led Dr. Cesal to Grand Traverse Family Chiropractic, where he found a family-oriented practice excited to treat the whole community.
Prior to joining Grand Traverse Family Chiropractic, Dr. Cesal worked at a family Chiropractic practice near St. Louis, Missouri and Scott Air Force Base in Illinois. He enjoyed giving back to those communities and providing care to the men and women who serve our Country. Before beginning his career in Chiropractic, Dr. Cesal worked in Hawaii, running and overseeing sports programs for local communities. This experience allowed him to serve many diverse people and populations through sports, further exemplifying his devotion to service, athletics, and healthy lifestyles.
Dr. Cesal is excited to be back in his home state of Michigan and to get involved with the many activities Northern Michigan has to offer. He looks forward to serving Traverse City and the surrounding areas to the best of his ability and helping each patient live their life to the fullest!